Workplace Regulations Fuel Unexpected Growth in Industrial Flooring Sector, says Market.us
---
---
The Industrial Flooring Market is expected to grow because of stringent regulations by different regulatory bodies regarding workplace safety and hygiene. Additionally, the rapid industrialization taking place in emerging economies will drive growth. 
According to a report by Market.us, "The Global Industrial Flooring Market is projected to be USD 8.2 Billion in 2022 to reach USD 14.14 Billion by 2032 at a CAGR of 5.6%."
The Global Industrial Flooring Market report gives a complete assessment of the market. The report includes a detailed analysis of key segments, market drivers, restraints, competitive environment, and other factors that play a significant role in the market.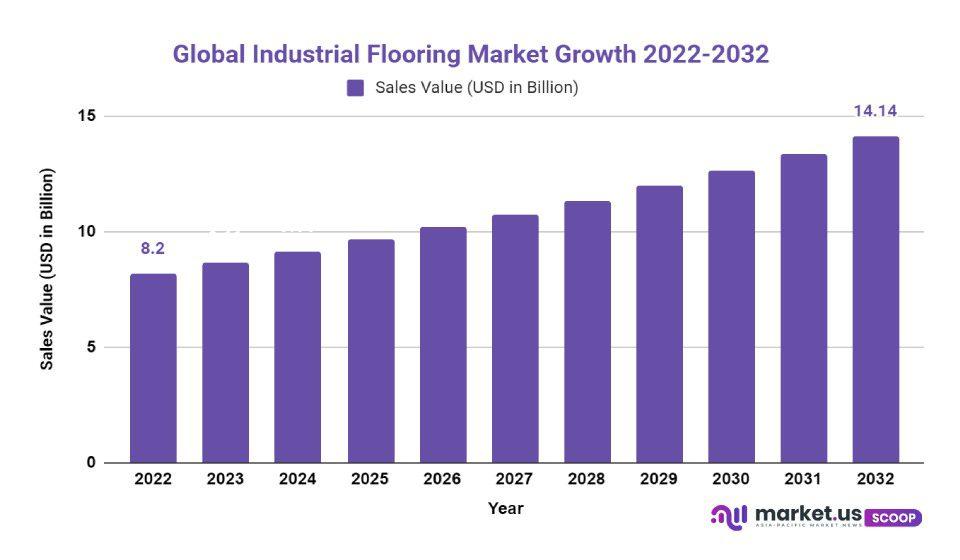 Anurag Sharma, the senior research analyst at Market.us, said, "The growing demand for industrial flooring in the food and drink industry to protect concrete from degradation is expected to drive market growth for industrial flooring. Industrial flooring's growth can also be attributed to growing spending by consumers and governments on food and beverages, particularly in India, China, and America."
The market for industrial flooring will grow rapidly due to the increased implementation of regulations and safety rules at work. EU regulations 853/2004 and 852/2004 specify that food industry floors must be clean, hygienic, properly disinfected, and maintained in good condition. Additionally, floor materials should be washable and non-absorbent.
The importance of industrial flooring in various industries is important for safety, productivity and housekeeping. Industrial flooring is designed to allow for easy movement of machinery, materials, people, and equipment-handling devices. It offers several benefits to the floor, including chemical resistance, flammability, fire safety, wear (abrasion) resistance, and hygienic/anti-bacterial. Industrial flooring can also be used to repair damaged floors. It improves safety and hygiene as well as reduces cost.
The global industrialization rate is key to the growth of new industrial flooring markets. There has been a strong demand for industrial flooring in commercial facilities, such as transport, warehouses, or SEZs. There are new ways to reinforce concrete and lay concrete. This is driving the growth of industrial flooring markets. The process you choose can improve your performance in terms of strength and flexibility.
For industrial flooring providers, durability has been a key focus over the past few decades. Not only are end users demanding performance, but flooring must also be environmentally friendly. The choices in paints and processes will shape the industrial flooring market's future trajectory. To offer unique flooring, solution providers have made constant advances in chemistries.
Market growth is expected to be restricted by the high cost of industrial flooring compared to traditional flooring. In addition, there are not many tiles that can withstand heavy-duty applications. This will also limit market growth in industrial flooring.
Likely, the lack of knowledge about the benefits of products to consumers and the shortage of skilled labor for industrial flooring applications will hinder the use of this product. This will impact the overall market growth in industrial flooring during the forecast period.
The market can be divided by application type into healthcare, food & beverages, automotive, industrial, and others. Food & beverage will experience the greatest growth over the forecast period. However, industrial manufacturing is expected to retain its dominance during the same period.
Asia-Pacific, another important market for industrial flooring, will continue to grow rapidly over the next five years. China holds over half the market in the region and will continue to dominate the global market. The key driver of the region's demand is the steady increase in industrial flooring penetration in major Asian countries, especially China.
North China has 42,577 food and beverage producers, accounting for more than CNY 20 million annual sales. The country is experiencing a steady increase in processed food consumption.
---
---
Media Enquires
If you require any further information about a related market, please get in touch with us. we're happy to help you
+91 7008 614 496
+91 7008 614 496