Businesses Transforming Operational Efficiency with Field Service Management Solutions, says Market.us
---
---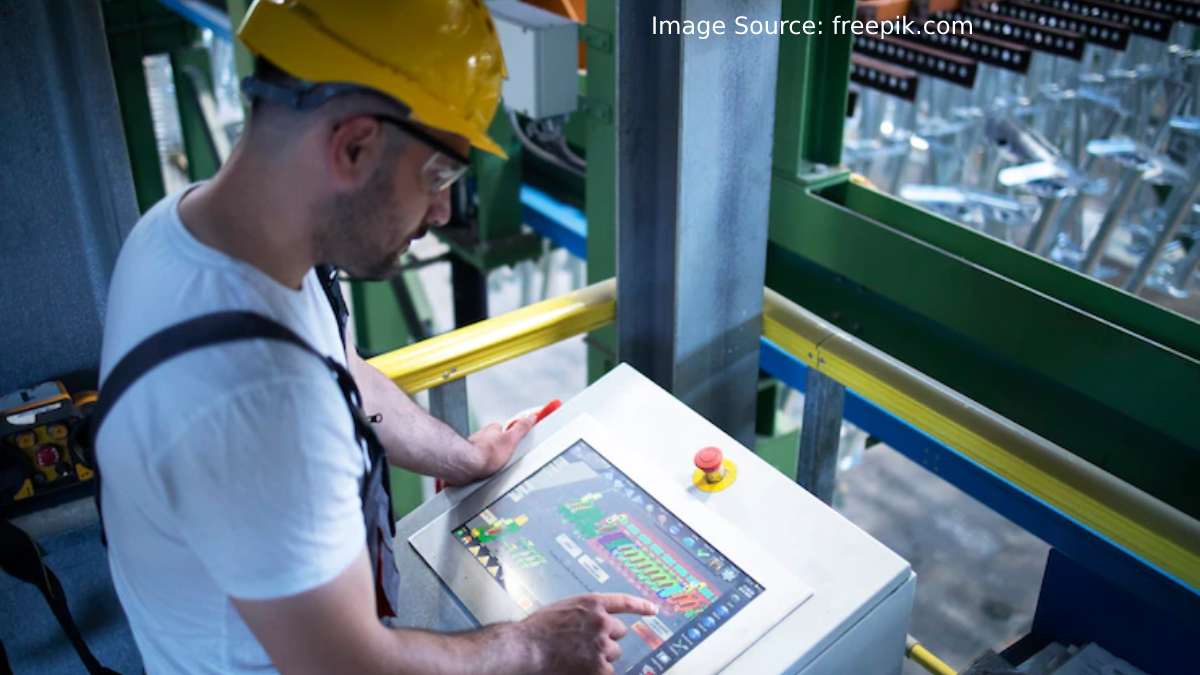 Field service management involves sending workers or contractors to work on equipment, systems, or assets. Field service managers manage the organization's field resources. They also coordinate the work of field practitioners who provide specialized, proprietary, or skilled services to clients.
Field service management solutions that integrate data from enterprise asset management with data from remote locations, including IoT, are effective in helping companies manage their resources.
According to the latest report by Market.us," The market for field service management globally was valued at USD 3.12 billion in 2021 and is estimated to grow at a compound annual growth rate (CAGR) of 9.8% and reach USD 7.95 billion between 2023 to 2032."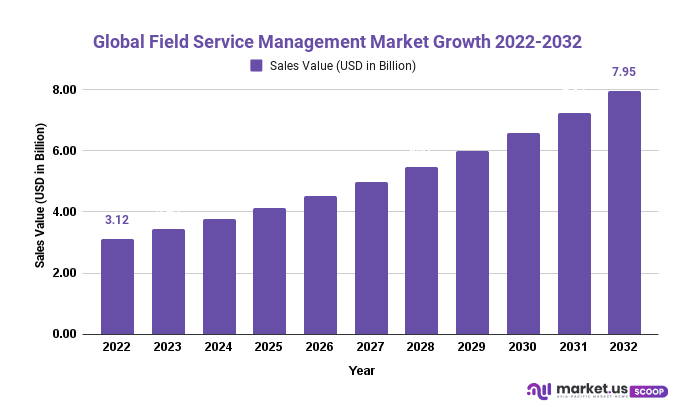 This report provides a comprehensive analysis of the market for field service management, including its share, growth, key trends, and other key factors. This report provides qualitative information as well as quantitative analysis for various segments for the forecast year 2023-2032
Gaurav Yadav, a senior research analyst at Market.us, said," Manufacturing organizations can use field service management solutions to improve their business operations and make them more efficient, reliable, and error-free. It allows organizations to improve the quality of their products or services, which helps reduce time, effort, and costs related to service delivery and product manufacturing."
Field service management offers solutions for the organization to streamline business processes, including overall tracking of field services operations and repair activities. Workload management is also simplified. Real-time tracking of worker location and automating field operations can eliminate manual tasks.
Market growth is expected to be further boosted by the rapid adoption of these solutions by small- and medium-sized companies. These factors will drive market growth during the forecast period.
Market vendors are increasing the number of their services, leading to increased market visibility and greater growth opportunities. ServicePower, a major Field Service Management (FSM), a software company, announced in May 2022 that its services were now available for French customers.
This field service management specialist affirms its expansion in Europe. It aims to help retailers, insurance companies, and consumer electronics companies provide first-class customer experiences while also achieving significant operational efficiencies.
Multiple partnerships are taking place in this segment. To maintain their market position and increase their business value, key players use various strategies. Key players can increase their market share by launching new products or adding new features to existing product lines. Key players are also looking to acquire small businesses and expand their business or product network to strengthen their competitiveness.
For Instance, CobbleStone Software, a solution provider for HubSpot, announced in August 2021 that they were a solution provider. CobbleStone Software allows HubSpot users to connect with their leads and contacts through HubSpot. This software suite, called CobbleStone Contract Insight, allows organizations from different industries, public and private, to create, sign, approve and track contracts in one central location.
In March 2018, IBM and SAP SE for created field service solutions (IM&C) for industrial machinery components companies. This allowed them to lower maintenance and service costs and improve worker performance through real-time operational data analysis.
Many companies have tried different solutions and have now found that they don't all work well together. It is essential to have a cohesive, integrated, and end-to-end solution that is easy to use by field teams. Also, dashboards that provide enterprise-wide visibility into a company's resources are important for smooth field service management.
IoT devices will provide valuable insights to field service technicians about when and how equipment should be serviced. Automation, mobile capabilities, and AI support will increase their productivity. Customers will have better experiences when accessing digital services in the cloud.
The market will also be driven by integrating AI, AR, VR, and GPS in the field service sector. The implementation of field management software largely influences field service management. FSM solutions are being increasingly used to provide better customer service, lower labor costs, and increase productivity. This is a key factor driving the market during the forecast period.
---
---
Media Enquires
If you require any further information about a related market, please get in touch with us. we're happy to help you
+91 7008 614 496
+91 7008 614 496