Medical Industry Trends Triggers Expansion of Sterilization Wrap Market, says Market.us
---
---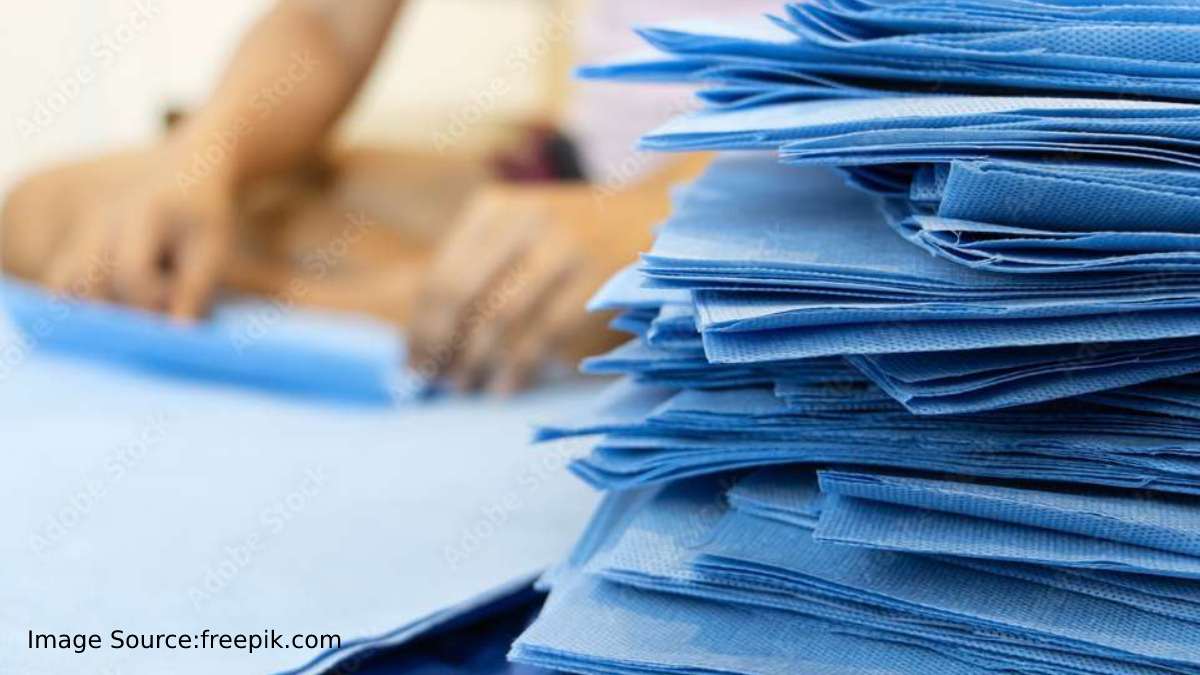 A sterilization wrap is a tool which ensures that surgical instruments are safe and clean before they are used. It protects the surgical instrument's sterility during transit and storage. These wraps are extremely effective in fighting infections and can be used by both patients and staff, as well as doctors and medical professionals. These sterilization wraps are made to be used for specific sterilization processes.
A sterilization wrap is a device designed to be used to seal another medical device that needs to be sterilized. It allows sterilization of the enclosed device and maintains sterility until it is used. Using the correct sterilization wrap for each device is essential, especially when using high-tech and complex surgical instruments. The sterilization sector in the health care department is crucial for patient safety and positive patient outcomes.
According to Market.us' research, " The Global Sterilization Wrap Market was valued at USD 1.7 billion in 2021 and is expected to reach USD 3.70 billion by 2032, exhibiting a CAGR of 8.1% during the forecast period (2021-2032)."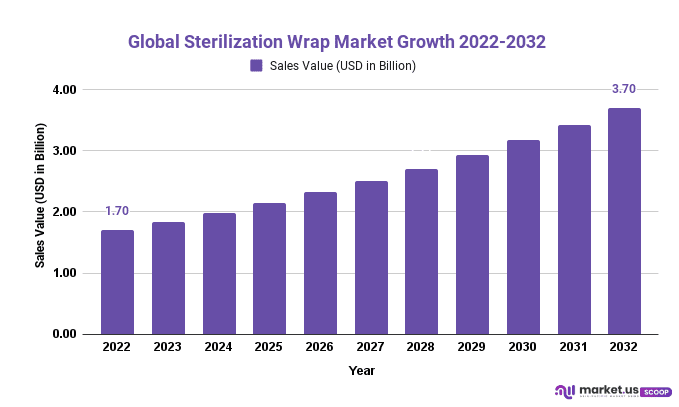 The rising demand for high-grade medical equipment for use in home-based care and hospital settings has driven manufacturers to focus on developing products that meet stringent sterilization requirements while also providing convenience for users.
Anurag Sharma, senior research analyst at market.us said," Major factors driving the growth of the sterilization wrap market include an increase in surgeries and hospital-acquired infections. Sterilization wrap market growth is also driven by the aging population and chronic diseases."
Hospital-acquired infections and other adverse outcomes can affect a healthcare facility's reputation. Multilayered sterilization wrapping options are available to package unusually shaped or large medical equipment. These sterilization wraps, which are made from a woven absorbent material, can be used again and again. Nonwoven sterilization covers prevent microbial entry. One can choose from different levels of sterilization wraps for protection.
Sterilization wraps are used primarily in hospitals and surgical centers. The sterilization wrap market is limited by strict regulation and saturation in advanced economies. This is why the market for sterilization wraps has seen an increase in growth. There are many types of sterilization wraps available.
Owens and Minor entered the sterilization wrap business in May 2018 by acquiring Halyard's Surgical and Infection Prevention (S and IP). Owens and Minor are now a dominant player in the sterilization market. They will be the market leaders for the forecast period owing to Halyard's wide product portfolio, customer reach, and strong brand recognition. Together, Ahlstrom-Munksjo and this company hold more than half the market share in terms of revenue.
Hospitals and clinics have adopted sterilization wraps in a number of ways. These include packaging surgical equipment for sterilization to preserve its sterility. This has helped hospitals and clinics to gain more market share and grow.
Sterilization wraps offer protection against contamination during the handling, transport, storage, and use of the product. It also protects microbial entry. Sterilization wraps are more popular in hospitals and clinics because they are frequently used.
The Sterilization Wrap market is a rapidly growing sector of the healthcare industry, as new technologies and techniques are being developed to ensure the safety and cleanliness of medical equipment. As more hospitals and other healthcare facilities move towards automation, sterilization wraps are becoming increasingly important.
---
---
Media Enquires
If you require any further information about a related market, please get in touch with us. we're happy to help you
+91 7008 614 496
+91 7008 614 496