Players in Foam Mattress Redefining Sleeping Comfort with Latest Tech, says Market.us
---
---
Foam mattresses are made up of air trapped in aerated substances rather than springs. This allows for support and bounce. There are three main types of foam mattresses: memory foam, polyurethane foam, and foam latex. All three are made from petroleum. Even latex foam, made from rubber, can be chemically or mechanically altered from its original form. There is a growing demand for smart mattresses and a rising popularity of eco-friendly mattresses.
According to the latest report by Market.us," In 2022, the global foam mattress market value is expected to increase from USD 102.61 billion in 2022 to USD 251.06 billion by 2032. This forecast period will see a CAGR of 9.36%."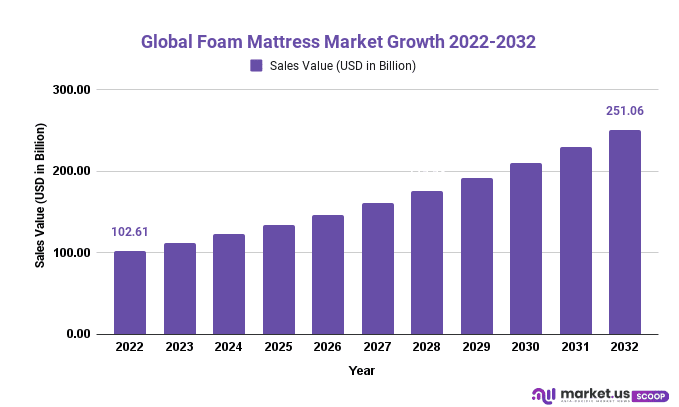 The foam mattress market is growing rapidly in recent years. It is expected that it will continue to grow in the future. Many factors drive this growth, including increased consumer preference for comfort and better technology. Market drivers include a growing population, increasing urbanization, and rapid development in the healthcare and hospitality industries.
Anurag Sharma, a senior research analyst at Market.us, stated that, " The market's key drivers are ongoing innovation in new technologies that provide better comfort and better sleeping options for a broad range of people. Memory foam mattresses have been proven to be more comfortable than traditional spring mattresses, increasing customer satisfaction. Thanks to technological advances, manufacturers can now offer customized sleeping solutions based on individual body types and preferences."
Click here to check 200+ pages of in-depth market analysis report on foam mattress market.
A rise in home furniture sales, such as pillowcases and mattresses, has resulted from the increasing demand from the real estate industry to meet housing needs. This has led to a greater need for these products, which in turn has helped in the growth of the mattress market. The growth of the mattress market is expected to be driven by strong marketing strategies such as discounts, sales, and offers. The growth of the mattress market is being driven by the availability of different sizes of mattresses to meet the needs of consumers.
Market growth will be further supported by the expansion of mattress-selling outlets and stores. The rising market share of online distribution channels in the mattress market will also drive industry growth.
Key industry trends driving the market growth are the increasing demand from the realty industry to meet housing needs and the spread of outlets and stores specializing in mattresses.
In terms of confirmed cases and reported deaths of the corona, the USA, Brazil, India, Russia, France, and Spain are the most affected countries. Few companies have yet to announce possible delays in product delivery or a slump in future sales. Global travel bans in North America, Asia-Pacific, and Europe are also affecting business partnerships and collaborations.
The consumer's purchasing power is severely affected by the loss of jobs and reductions in their salaries. The consumer's ability to spend on non-essential items was greatly reduced. These factors all have had a negative impact on the mattress market.
Only a handful of mattress companies offer customized mattresses. This option allows customers to create their own mattresses. The manufacturers can focus on making the mattress unique to meet every customer's needs. For example, The customer might want to buy a particular mattress material to support their lower back or add a mattress topper for more cushioning. This replaces the "one size fits all" method of mattress purchasing and allows for a more customized approach.
Organic and all-natural mattresses are becoming more popular in the past year. As their environmental concerns rise, people are choosing to buy ecologically-conscious products more than others. In recent years, mattress companies that are sustainable and ecologically-friendly have experienced the greatest growth.
---
---
Media Enquires
If you require any further information about a related market, please get in touch with us. we're happy to help you
+91 7008 614 496
+91 7008 614 496