Vegan Cheese Market Goes Mainstream As Consumers Opt for Plant-Based Alternatives, says Market.us
---
---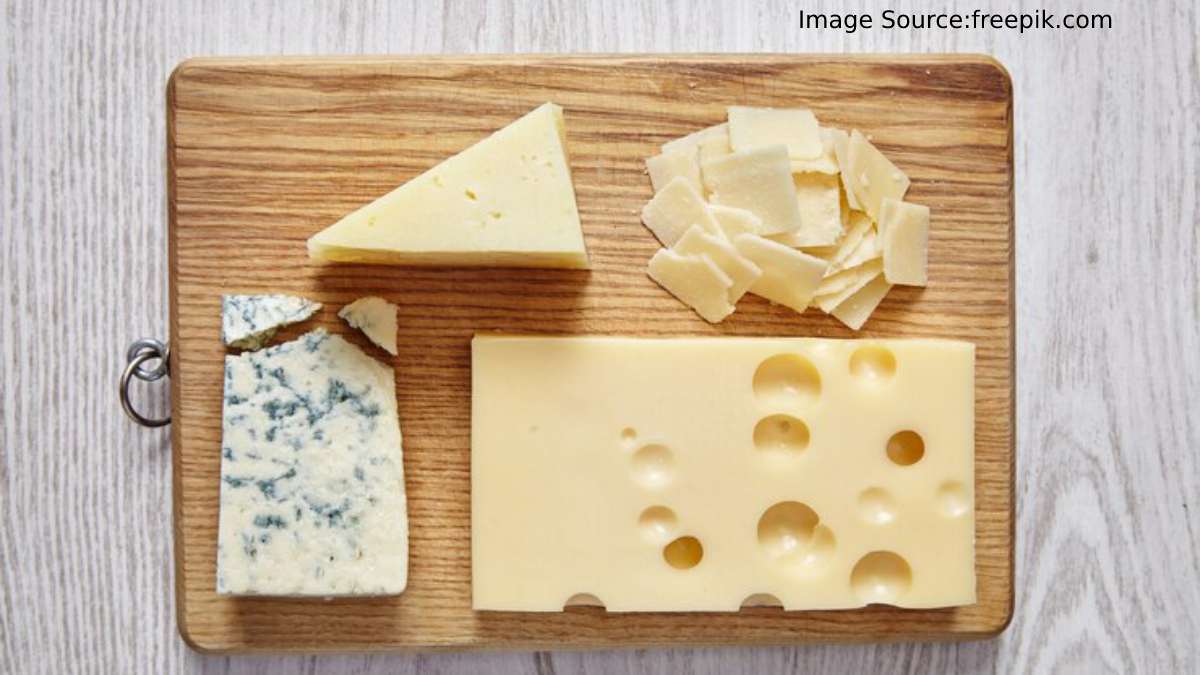 The vegan cheese market is experiencing a surge in popularity as more consumers are seeking out plant-based alternatives to traditional dairy-based cheese. Whether driven by health, environmental, or ethical considerations, the demand for vegan cheese is proliferating, and the market is evolving to meet the needs and preferences of this growing consumer base.
From savory cheddar alternatives to tangy cream cheeses, the vegan cheese market is offering an ever-increasing variety of products that are sure to please even the most discerning cheese connoisseur. So, whether you're a long-time vegan or just looking to incorporate more plant-based products into your diet, the vegan cheese market is worth exploring.
According to the latest report by Market.us," The Global Vegan Cheese Market is expected to grow at a CAGR of roughly 7.3% over the next ten years and will reach USD 5.46 Bn in 2032, from USD 2.7 Bn in 2022."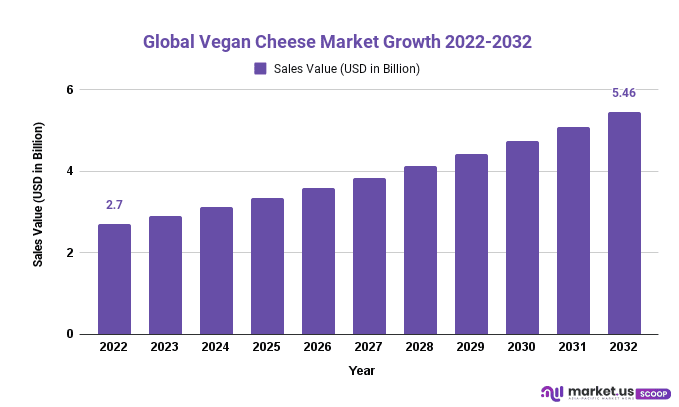 The fast-growing Vegan Cheese Market offers exciting growth opportunities for competitors. A recent report by Market.us highlights some key strategies companies can adopt to benefit from the latest industry trends.
The report highlights the key trends that will shape the Vegan Cheese Market going forward by giving information on the size of this fast-growing market development, drivers, trends, and which regions and segments are most important.
Gaurav Yadav, a senior research analyst at Market.us, said," Vegan cheese is a rapidly growing segment of the food industry, offering consumers a delicious and healthier alternative to traditional dairy-based cheese. This innovative and versatile food product is made from plant-based ingredients and is free from dairy, gluten, and other allergens. With its rich flavor, creamy texture, and numerous health benefits, vegan cheese is quickly becoming a staple in kitchens across the world."
The vegan cheese market is experiencing explosive growth as more consumers seek out plant-based alternatives to traditional dairy-based cheese. In recent years, the market has seen a tremendous increase in the number of vegan cheese products available, with new and innovative offerings appearing on store shelves and menus worldwide.
This growth is driven by several factors, including increasing health and environmental concerns, rising awareness of animal welfare issues, and the desire to incorporate more plant-based products into the diet.
As a result, the vegan cheese market is expected to continue its upward trajectory, with industry experts forecasting significant growth in the coming years. Whether you're a seasoned vegan or just curious about plant-based cheese, the growth of the vegan cheese market is an exciting development that is worth paying attention to.
Mentioned below are the few latest trends in the vegan cheese market:
Artisanal appeal: Vegan cheese has come a long way from the rubbery, tasteless offerings of the past. Today's vegan cheeses are more sophisticated, with bold flavors and textures that rival traditional dairy-based cheeses. There's a growing demand for artisanal vegan cheeses that are handcrafted with care, made from premium ingredients, and packed with flavor.
Plant-based boom: With the growth of the plant-based movement, there's never been a better time to be a vegan cheese lover. Brands are introducing new and exciting vegan cheese alternatives that cater to a wide range of tastes, including nut-based cheeses, fermented cheeses, and alternative dairy products like vegan cream cheese and sour cream.
Market.us has segmented the Vegan Cheese Market based on the following parameters:
By Product Type, the market is segmented into Mozzarella, Parmesan, Cheddar, and Others (Cream Cheese and Ricotta). Here, Mozzarella held the largest market share in the year 2022. Mozzarella is often considered a popular product type in the vegan cheese market due to its versatility in various dishes such as pizza, lasagna, and sandwiches.
By Source Type, the market is segmented into Almond Milk, Soy Milk, Coconut Milk, and Others (Cashew Milk, Peanut Milk, and Hazelnut). Currently, almond milk is one of the most popular sources of vegan cheese due to its neutral flavor and high nutritional content. However, soy milk and coconut milk also have a strong following and are utilized by many vegan cheese manufacturers.
By application, the market is divided into Baked Goods, Snacks and Ready Meals, Processed and Packed Foods, Dairy, and Desserts, and Others (Food Service (Hotels, Restaurants, cafes, etc.) and households). Baked Goods and Dairy and Desserts segments have a significant share in the market due to the high demand for plant-based cheese alternatives in these product categories.
The vegan cheese market has a number of key players, including large multinational food companies and smaller, independent manufacturers. Some of the main players in the market include:
Daiya Foods, Follow Your Heart, Kite Hill, Miyoko's Kitchen, Treeline Treenut Cheese, Violife, Tofurky, Good Planet Foods, Nutritional Brands Inc., and many others.
These companies are at the forefront of the vegan cheese revolution, offering consumers an ever-expanding range of high-quality, delicious, and healthy plant-based cheese alternatives.
With their innovative product offerings, commitment to using only the highest-quality ingredients, and dedication to environmental and animal welfare causes, these companies are helping to drive the growth of the vegan cheese market and making it easier than ever for consumers to enjoy delicious, plant-based cheese.
---
---
Media Enquires
If you require any further information about a related market, please get in touch with us. we're happy to help you
+91 7008 614 496
+91 7008 614 496