Advancements in Technology Propel Expansion of Combi Ovens Market, says Market.us
---
---
The need for rapid and convenient cooking has been a primary driver of the combi oven market's growth. Combi ovens are multifunctional cooking appliances that combine the operations of a convection oven, a steam oven, and, in some cases, a microwave oven. 
They can prepare a variety of foods fast and effectively, with consistent results. Modern customers' fast-paced lifestyles have boosted the need for quick and convenient cooking options. Combi ovens allow you to cook numerous foods at once, decreasing cooking time and enhancing efficiency. They also include pre-programmed settings for different food items, making it easier for both amateur cooks and professional chefs to produce a wide range of foods.
Furthermore, the growing popularity of healthy eating has increased demand for steam cooking, which is another function of combi ovens. Steam cooking helps to preserve the nutrients and tastes of food, making it a healthier and more delicious alternative.
According to the latest report by Market.us," Global Combi Ovens Market Was Valued at USD 3.16 Bn In 2023 And Is Projected To Reach USD 9.20 Bn By 2033, At a CAGR Of 10.2%."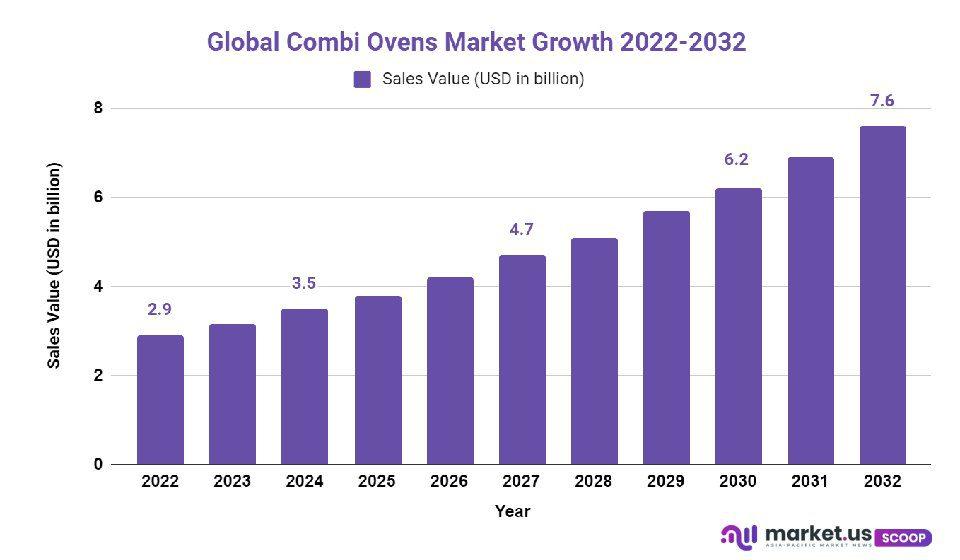 Another significant driver in the combi oven industry is the rising popularity of healthy cooking. People are seeking methods to prepare their food in a way that maintains more nutrients and taste as they grow more health-conscious. Combi ovens are an excellent choice since they provide a variety of cooking modes that can assist to retain the nutritional content of food while delivering tasty results. 
Steam cooking, which helps to preserve vitamins, minerals, and other nutrients in food, is a popular feature of combi ovens. Steam cooking reduces the need for oil and other fats, making it a healthier cooking option. Combi ovens may also be used for low-temperature cooking, which helps to maintain food flavor and texture while completely cooking it.
Combi ovens may be used to prepare healthful foods in addition to retaining the nutritional content of food. They may, for example, be used for grilling, roasting, and baking, all of which are healthy cooking methods with great outcomes. Combi ovens also provide adjustable humidity and temperature control, allowing for more accurate cooking and better outcomes.
Anurag Sharma, senior research analyst at market.us said "Innovation and development in the combi oven market are being driven by technological breakthroughs. Manufacturers are always offering new features and capabilities that improve combi oven functionality and performance."
Touchscreen displays for easy navigation and real-time data, connectivity for remote monitoring, energy-saving features for increased efficiency, automatic cleaning functions for convenience, advanced cooking functions for precise and efficient cooking, and even AI technology to optimize cooking processes and predict cooking times are examples of recent advancements. These technical improvements make combi ovens even more versatile and efficient, fueling demand from both residential and commercial customers. Combi ovens are a fantastic tool for any culinary setting due to their mix of ease, adaptability, and accuracy.
The growing number of commercial kitchens is a major driver in the combi oven industry. As the food service sector expands, so does the demand for efficient, dependable, and diverse cooking equipment. Combi ovens are a popular choice for commercial kitchens since they provide a number of culinary capabilities and can be used to produce a wide range of foods. 
The growing popularity of delivery services, food trucks, and pop-up restaurants has also aided the expansion of the commercial kitchen sector. These enterprises frequently demand compact and portable cooking equipment, and combi ovens are an excellent choice since they can fit into small places and are readily carried.
The combi oven market is seeing an increase in demand for energy-efficient cooking equipment, owing to increased awareness of environmental sustainability and cost-cutting initiatives. Energy-efficient combi ovens have grown in popularity since they use less energy than ordinary ovens, saving money on electricity costs while also helping to cut carbon emissions. 
Manufacturers are reacting to this need by including new energy-saving technologies such as automatic shut-off, low-power modes, LED lighting, and energy-efficient cooking functions in their combi ovens.
Energy-efficient combi ovens not only save money on power bills, but they also contribute to a company's carbon imprint. This is especially critical for firms devoted to sustainability and reducing their environmental effect.
Manufacturers are likely to develop even more inventive features to their combi ovens to fulfill the market's shifting demands as demand for energy-efficient cooking equipment continues to increase. Combi ovens' combination of the energy economy, adaptability, and accuracy make them a great solution for any business looking to minimize energy use while still offering high-quality food to its consumers.
A primary driver in the combi oven industry is increased awareness and promotion of combi ovens. Manufacturers are spending in marketing and advertising activities to promote customer knowledge of the advantages of combi ovens and educate them on their features and capabilities. As a consequence, more people are becoming aware of the benefits of combi ovens, fueling demand for these devices.
In addition to conventional marketing and promotion, manufacturers are promoting their combi ovens through social media and other digital platforms. This enables them to reach a larger audience and interact with potential consumers in novel ways.
Cooking programs, online culinary lessons, and cooking tutorials have all contributed to a greater understanding of combi ovens. Combi ovens are being used in cooking demos by chefs and home cooks, and their experiences are being shared via social media and other platforms. This has helped to enhance the visibility of combi ovens and demonstrate their versatility and efficiency in the kitchen.
---
---
Media Enquires
If you require any further information about a related market, please get in touch with us. we're happy to help you
+91 7008 614 496
+91 7008 614 496