Aircraft Sensors Poised to Transform the Skies By Becoming Vital Components of Any Modern Aircraft, says Market.us
---
---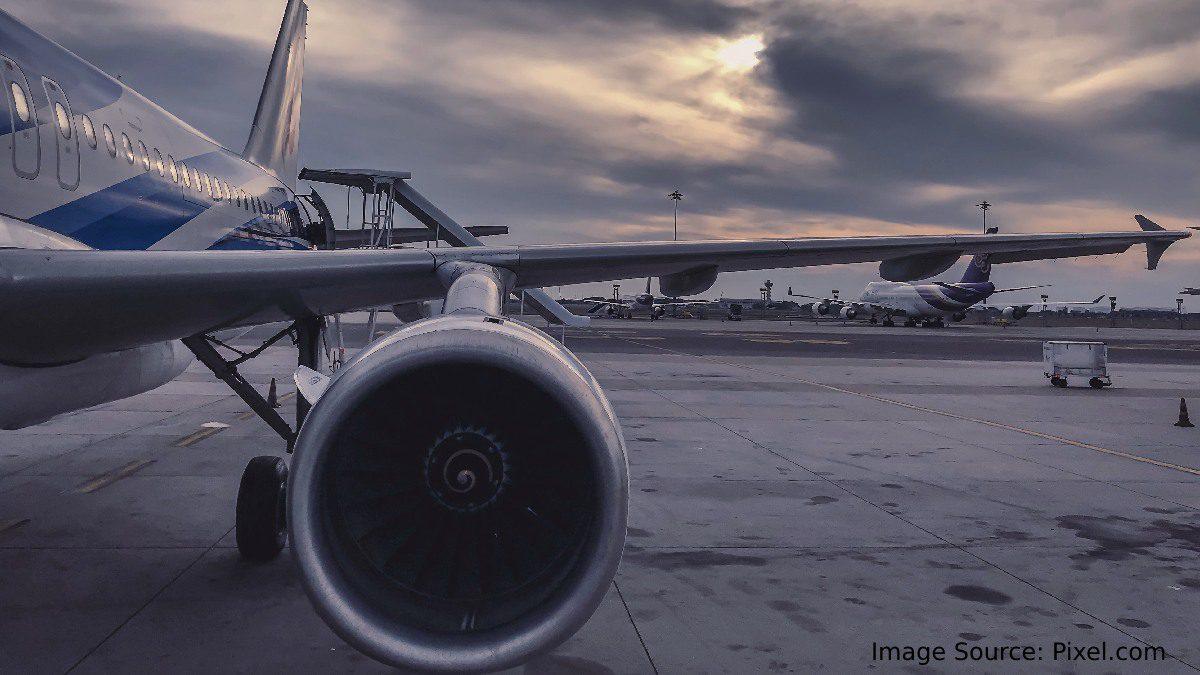 As the aviation industry grows, aircraft sensors have become essential components of modern-day airplanes. Aircraft sensors are sophisticated devices that measure, record, and transmit data about a plane's performance, safety, and operation. By providing real-time information about a plane's speed, altitude, and other variables, these sensors help pilots make informed decisions regarding their flight plans.
The global aircraft sensors market is rising as more airlines are opting to upgrade their planes with advanced technologies. With aircraft sensors, airlines can monitor various critical parameters such as temperature, pressure, speed, and altitude. This helps reduce maintenance costs and improve safety for passengers. The market for aircraft sensors is projected to witness healthy growth in the coming years due to increasing demand from commercial and military aviation sectors worldwide.
According to research by Market.us, " The Aircraft Sensors Market was valued at USD 2.79 billion in 2021 and is projected to reach USD 9.51 billion by 2032, growing at a CAGR of 11.8% from 2022 to 2032."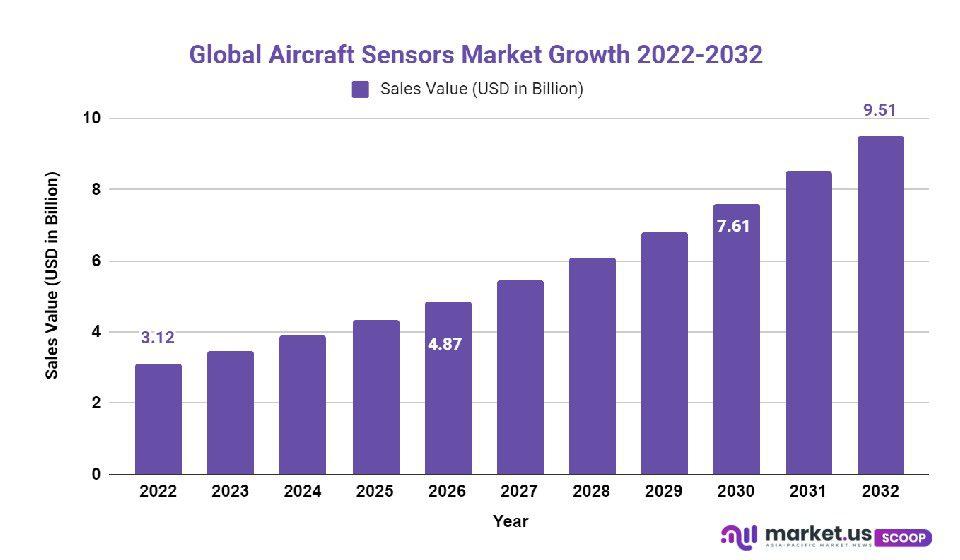 Anurag Sharma, a senior research analyst at Market.us, said, "The Aircraft Sensors market is a rapidly growing industry with significant growth potential. Increased demand for comfort and safety, as well as advancements in technology, have made aircraft sensor systems increasingly vital components of any modern aircraft. This further cements the fact that aircraft sensors can be seen as a lucrative investment opportunity for many businesses, both big and small."
Click here to check 200+ pages of an in-depth market analysis report on the Aircraft Sensors  market.
The major drivers of the aircraft sensor market include investments in new products such as next-gen airliners; rising demand for fuel efficiency; growing air passenger traffic; increasing government regulations regarding flight safety; and the emergence of new applications of aircraft sensors such as condition monitoring and predictive maintenance. In addition to these factors, technological advancements have resulted in the development of smaller yet accurate and reliable sensing components that offer higher performance at a lower cost.
The main driver of the market for aircraft sensors is the rapid rise in global aircraft orders. The market is also driven by technological advances in the aerospace industry, particularly in sensor technologies and private investment. The mandated rules of major aviation agencies are slowing the market growth. The market for aircraft sensors is growing due to the adoption of LoT in aviation and the rising demand for sensors in unmanned aerial vehicles."
The market will grow because of the rising demand for UAVs
UAVs can use a variety of detectors to enhance vehicle operation or retrieve data. Other than conventional sensors like flight control detectors flow & pressure & temperature and flow & level detectors pressure & temperature, other UAVs utilize advanced detector technologies like LIDAR (Light Detection And Ranging) which are utilized for imaging and navigation.
The market for aircraft sensors is expected to grow due to the increasing use of UAVs by the military in intelligence, surveillance and reconnaissance (ISR) operations worldwide. The market is expected to grow due to the increased use of UAVs for life-threatening missions and the increasing demand for modern fighting methods.
Market growth is expected to be aided by the increasing adoption of UAVs for commercial and civil operations, such as farming, engineering, safety, and other activities. Increased demand for expanding aircraft fleets across the globe will boost the market growth
Air passenger traffic has increased due to the improvement in the economic situation of middle-class people in developing countries. According to Oliver, there are 27,493 aircraft around the world. This number is expected to increase by 11,601 in the next 10 years. This increased demand will drive the market for aircraft sensors. The market will also be fueled by rising economies like India and China investing more in aviation.
Market Growth Could Be Affected by Regulations From Aviation Safety Agencies
The aviation industry regulates the use of electronic parts for aviation. The Federal Aviation Administration (FAA) has established guidelines for manufacturers regarding safety and design issues. These regulations will hinder the development of this market. For example, in March 2020, the FAA proposed that the Boeing Company be fined USD 187 Million for installing equipment with sensors in 738 aircraft and 792 jetliners. The FAA did not approve the guidance system.
Recent Developments
The US Navy awarded Lockheed Martin a contract in August 2022 for the development of F-35 Joint Strike Fighter programs for Australia, Canada, and the UK. This contract covers upgrading the F-35s' data center for creating mission data files gathered from the vast array of sensors and other systems on the aircraft. Lockheed will benefit from the deal to establish a strong brand in the military sector of the industry and attract international players for its advanced product portfolio.
Honeywell Aerospace and TT Electronics partnered in July 2022 to develop next-generation inertial navigators for military and aerospace applications.
Honeywell received funding from the US Defense Advanced Research Projects Agency in January 2021 to develop the next-generation inertial sensor technology for both defense and commercial navigation.
L3Harris Technologies received a USD 96.4 million contract from the U.S. Special Operations Command in May 2021 to modernize the forward-looking infrared systems of military-rotary wing aircraft. SOCOM expects to invest USD 7.6 million in the initial defense-wide funds for sensors and program management services.
Teledyne Controls, LLC received FAA Supplemental Type Certification (STC) approval in March 2021 for the installation of its advanced Aircraft Cabin Environment Sensors (ACES) onto Boeing 737 aircraft.
General Atomics Aeronautical Systems, Inc. received a USD 93.3 million contract from the Joint Artificial Intelligence Center in November 2020 to enhance the autonomous sensing capabilities of unmanned aircraft.
---
---
Media Enquires
If you require any further information about a related market, please get in touch with us. we're happy to help you
+91 7008 614 496
+91 7008 614 496