"According to 3D Printing Statistics, Engineering sector firms increased their utilization of 3D-printed functional end-use components by 54% in 2020. 3D printing worldwide reached $13.8 billion by 2021 with North American sales amounting to $5.72 billion."
3D Printing Statistics (Editor's Choice)
By 2020, engineering firms will have expanded their use of 3D-printed functional end-use components by 54%. By 2021, the global market for 3D printing will be worth $13.8 billion, with North American sales totaling $5.72 billion.
Many analysts anticipate that the printing market will grow fast, ranging from 18% to 27% per year, with around 2.2 million 3D printers shipped out by 2021.
As of 2021, 3D printing equipment was anticipated to cost 4.5 billion, with materials accounting for an additional $1.7 billion in market size.
AutoDesk, HP Inc., 3D Systems, and Desktop Metal are among the largest 3D printer manufacturers, with market capitalizations of over $68.2 billion. Investors are taking notice: venture capital investments in 3D printing businesses hit $300 million in 2018!
Companies already employing printing technology are also highly enthusiastic about it; 23% have indicated their plans to invest more than $100K in 3D printing technology by 2020.
When asked what advantages printing had over other techniques of production, 60% of respondents cited its exceptional ability to construct complicated geometric shapes rapidly and efficiently. 52% praised its quick production pace, while 41% praised its capacity to mass modify products.
38% of businesses that utilize 3D printing consider it their main line of business; 18% have internal departments dedicated solely to it; while 16% employ it across various departments.
Market Value
Source: Statista
Printing Benefits Statistics
The UK 3D printing market is expected to grow at a compound annual growth rate of 10% in the next years, ranking the country fifth in terms of adoption globally. 3D printing was most often used for proof-of-concept and prototyping.
Most companies recognize printing for its ability to speed up part delivery; 72% of aerospace industry prototyping requirements can be met through this technology; 55% of manufacturers favored this form of prototyping due to reduced costs.
As of 2021, printing accounts for approximately 0.1% of the worldwide manufacturing market. In that perspective, the worldwide 3D printing market was worth more than $10 billion in 2019, while the materials market was worth $1.5 billion – 82% of 3D printers utilize plastic as printing material!
Other benefits of mass reduction (23%), assembly step reduction (22%), continuous improvement, and supply chain optimization (9%) are realized.
According to over 40% of enterprises, rapid prototyping iterations and lead time reduction are among the primary advantages, followed by mass customization and cost savings.
3D Printing Usage Statistics
During 2020, 54% of engineering businesses boosted their 3D use of functional end-of-life components.
Metal printing for 3D printing is growing more popular as companies around the world address concerns about plastic use. In 2018, 65% of 3D printers used plastic filament, while 36% used metal filament.
7% of printing service providers reported producing 1,000 to 10,000 parts per year, while another quarter claimed to produce 10,000 to 500,000 parts per year.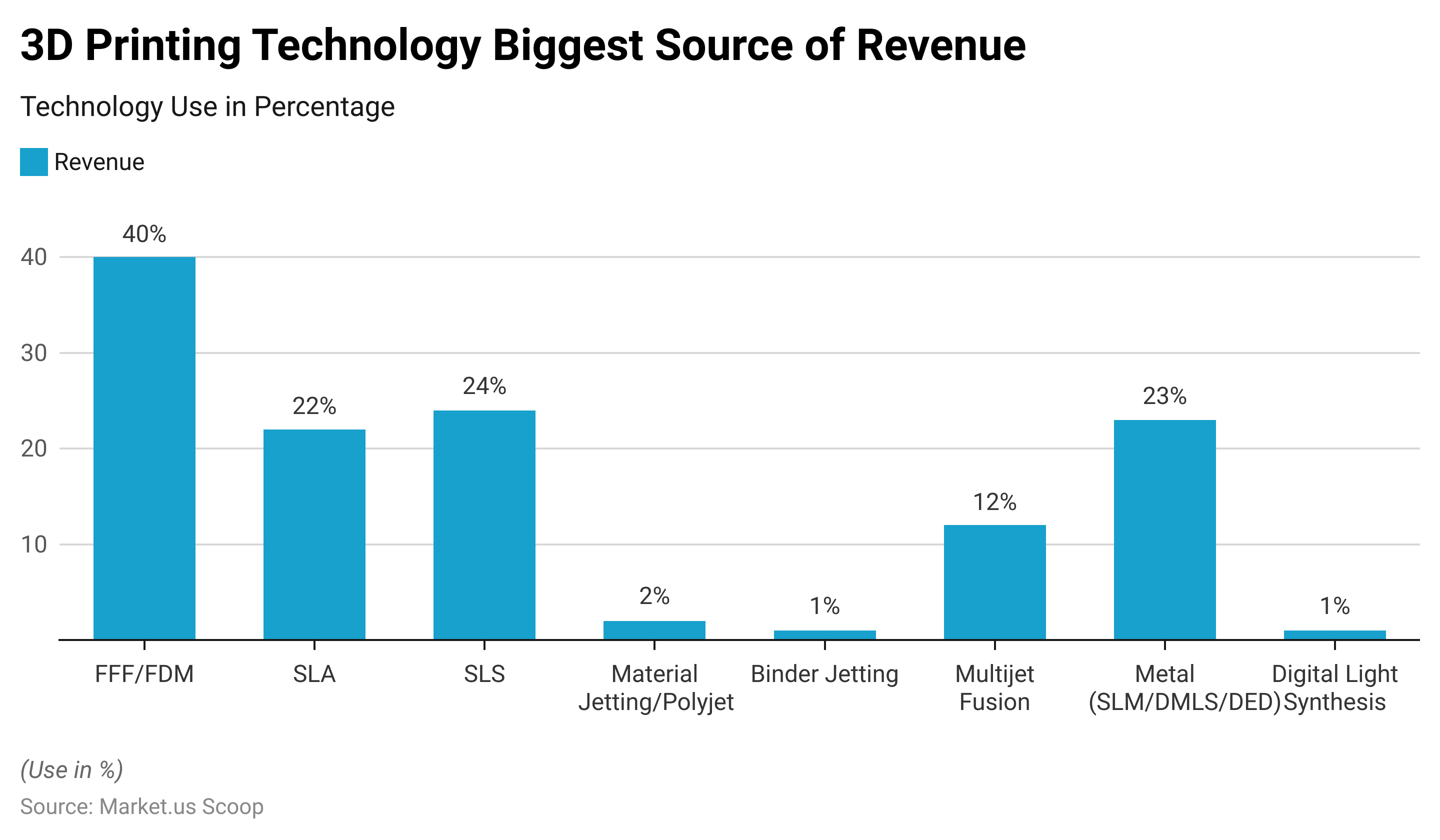 3D Printing Market Statistics
While 3D printing accounts for only 1% of the global manufacturing market, it is poised to become an indispensable tool in manufacturing workflows.
In 2019, the global additive manufacturing market grew to approximately $10.4 billion, surpassing the important double-digit billion milestones for the first time in the industry's 40-year existence.
In 2018, venture capital investment in start-ups related to 3D printers topped $300 million. All investments have one thing in common: industrial solutions and applications.
Analysts predict that the printing market will quadruple every three years, with annual growth ranging between 18.2 and 27.2%.
71% of companies believe that ignorance is the most significant factor influencing the decision-making process for projects to employ printing or conventional methods. Likewise, 29% say they lack confidence regarding printing as a solid.
Based on the number of industry participants, system makers hold the greatest share of the market for AM (38%) while the percentage of service providers has expanded dramatically to 34%.
The market for 3D printing is expected to grow by a factor of 2 every 3 years. The annual growth forecast by analysts ranges between 18.2 and 27.2%.
HP's Multi Jet Fusion has quickly become one of the most popular polymer printing techniques. In the year 2018, MJF 3D printers produced a total of 10 million pieces.
According to the number of industry participants, systems makers are the largest segment in the AM market; however, service providers have grown significantly, accounting for up to 34% of the market.
In the year 2019, 3D printing revenue accounted for around 0.3% of the world footwear market revenue as per SmarTech Analysis.
The market for orthopedic printing was worth $ 691 million as of 2018 and is forecast by SmarTech Analysis to grow into the $3.7 billion market in 2027.
According to SmarTech Analysis, the market for medical printing, which includes products, services, software, and hardware, is worth $1.25 billion.
According to SmarTech Analysis, printing revenue accounted for approximately 0.3% of global footwear market revenues in 2019.
The market for orthopedic printing was worth $ 691 million as of 2018 and is forecast by SmarTech Analysis to grow into the $3.7 billion market in 2027.
The market for medical 3D printing, which includes products as well as services, and software equipment, is estimated to be valued at $1.25 billion, as per SmarTech Analysis.
Research company, CONTEXT, estimates that metal 3D printers will grow year-on-year at a unit-volume rate of 49% or more.
A study by SmarTech Analysis suggests that revenues for 3D-printed dental implants will increase to $3.7 billion by 2021. Additionally, the technology will be the most popular manufacturing method for dental restorations as well as devices around the world by 2027.
It is believed that the USA, UK, Germany, France, and China are the top five nations with the highest 3D printer use and rates of investment.
The metal AM market was valued at EUR 1.51 billion as of 2018 and is projected to expand by a 25% CAGR.
A 3D-printing ceramic market is predicted to grow from a 20 million-dollar revenue opportunity in 2020 to more than $400 million by 2029 according to a study by SmarTech Analysis.
The market for 3D printing worldwide size was estimated at USD 13.84 billion as of 2021. It is predicted to grow by a compound annual growth rate of 20.8% from 2022 until 2030.
The segment of industrial printers led the market and contributed to more than 70.0% of total revenue for 2021.
Germany produced around EUR1 billion in revenue related to AM in the year 2019.
The printing market will be estimated the sum USD 13.84 billion by 2021. This is projected to grow to USD 16.75 billion by 2022.
The 3D printing market is predicted to grow at an annual rate of growth of 20.8% between 2022 and 2030. It is expected to be USD 76.17 billion in 2028.
The metal segment dominated the global market for printing and contributed more than 50.6% of worldwide revenue in 2021.
The stereolithography segment dominated the world printing market and was responsible for more than an 8.9% share of total revenue for 2021.
This trend is likely to continue for the duration of the global additive manufacturing industry, which is expected to grow by 24% between 2023 and 2025. Between 2020 and 2026, the demand for printing is expected to nearly triple.
The job market for 3D printing companies isn't very dynamic, with 60% of enterprises not planning to hire new employees in 2019.
63% of respondents feel that the technology will have an impact, and 89% believe that it will greatly reduce lead times, ensuring that products are available for sale in less time.
By 2025, the automotive, medical aerospace, and medical industries will account for 51% of the worldwide printing business.
By 2021 3D printing accounts for approximately 0.1% of the global manufacturing market.
The government hopes to boost its market share by 8% from 5%.
In the year 2021, 3D printers accounted for about 0.1% of the world manufacturing market.
According to a report from Ernst and Young, the 3D printing market is dominated mainly by system makers (consisting of 38%).
(Source: SmarTech Analysis of the Market for 2020 Additive Manufacturing Overview with a Summary of Opportunities Report, Ultimaker, 3D Printing Sentiment Index, Ernst Young, and Young 3D printing: hype or game changer – 2019 Global EY Report, Hubs the 2019 3D Printing Trends Report, Jabil An Assessment of 3D Printing Manufacturing Stakeholders, 2019)
Tajammul Pangarkar
Tajammul Pangarkar is a CMO at Prudour Pvt Ltd. Tajammul longstanding experience in the fields of mobile technology and industry research is often reflected in his insightful body of work. His interest lies in understanding tech trends, dissecting mobile applications, and raising general awareness of technical know-how. He frequently contributes to numerous industry-specific magazines and forums. When he's not ruminating about various happenings in the tech world, he can usually be found indulging in his next favorite interest - table tennis.